Looks Like the Honeymoon's Over
It's not supposed to be this way...
Before...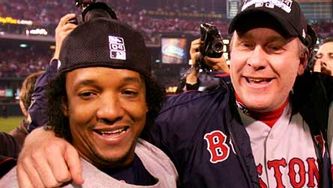 After...
Pedro Martinez Snarks About The Sox
I have lived in Korea for three years, which is of course, many miles away from my hometown. In those three years, 2 Boston sports teams (the Patriots, and more importantly, the Red Sox) have gone to the championship and won it all.
I'm trying to play dumb about any correlation there is between my moving far away from Boston, and the sports teams finally getting it together, though it looks like it hasn't affected the Bruins' play any in past years. Though with a lockout in place, everyone is now in first place!
I wonder how the Sox will do without Pedro, but then they happened to do very well this year without Nomar.