Picture Time!
Obviously not all of Malaysia!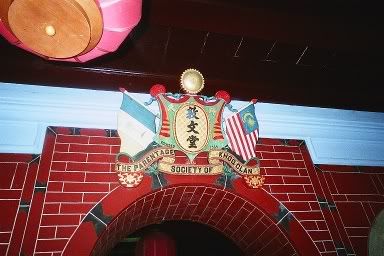 The "crest" in the Khoo Association House.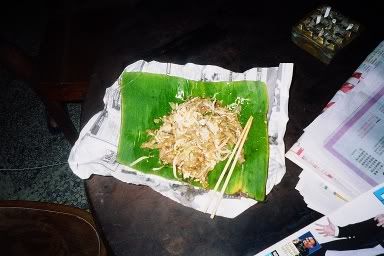 My dinner one night. Mee something or other (blush!) It's rice noodles fried up with shrimp, egg, bean sprouts and spicy sauce. Very greasy but very good! And served on a banana leaf! (And for those of you who know me personally -- relax! Those aren't my cigs!)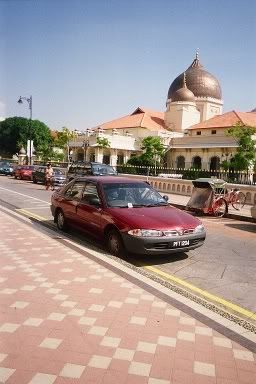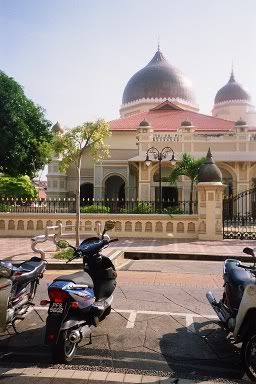 One of the many many many mosques in Penang.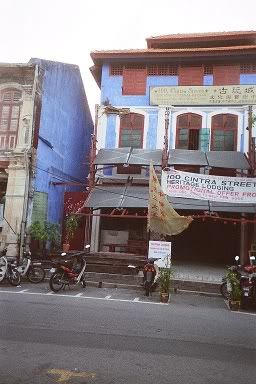 Where I stayed in Penang. The woman who runs this place is very kind and friendly. I meant to take a picture of her and her son but...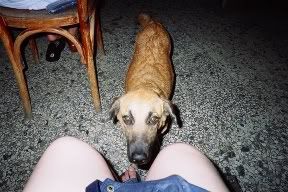 I only managed to take one of the dog there instead. (Double blush!)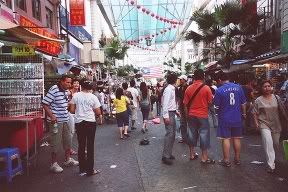 Petaling Street in Kuala Lumpur's Chinatown district. Now, do you see all the racks in the middle of the street? They were filled with things like (cough cough) copied DVDs and perfumes and shoes. Thing is, they are not supposed to be there. When I was walking down the street, maybe around 3 or so in the afternoon, word got out that there was a police officer in the vicinity. I never saw people push their racks into alleyways so fast! It was a bit scary, to say the least, to be caught up in the middle of it all! I ducked into a nearby McDonald's to escape what was becoming a literal crush there. Half an hour later, the racks were all put back out, and it was business as usual. I took this picture mainly to get a shot of the Malaysian flag.